Who is Dr T. James Gallagher ?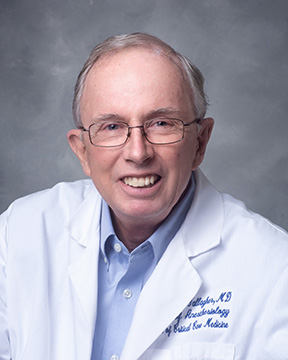 Hello. I am Dr. James Gallagher and have practiced Critical Care for the last 40 years.
This website is to help you and other family members deal with the stress, and sometimes confusion, of having a loved one in an ICU.
I have tried to explain in plain English the medical problems, how treatments, work and what you should expect.
I have cared for patients with most every type of critical illness, spending hours right at the bedside.
Much time was spent with family members helping them to understand what is happening to their loved one and how to deal with it.
My Experience
I am Board Certified in Critical Care Medicine.
At the University of Florida, for 39 years, I was the Medical Director of the Critical Care Division for 23 of those years.
I was also the Attending Critical Care doctor in the Surgical ICU,  Neurologic ICU and the Burn Unit. I also attended in the Cardiac ICU.
I have served as President of the Society of Critical Care Medicine, the American Society of Critical Care Anesthesiologists, and the Florida Critical Care Society
I have trained over 200 critical care doctors
There are few diseases, critical illness or complications that I have not treated.
My practice always involved large amounts of time with both families and patients.
If a patient was unstable, I was present she or he stabilized and stayed that way.
For families, the goal is that all questions are answered in plain English.
Every member should feel free to talk and ask any question.
How can this site help you?
Each disease is listed separately, and explained hopefully in easy to understand language. If not, please contact me.
Complications and how to deal with them are discussed.
All kinds of questions come up such as: Will my loved one survive? Why is this happening? Should I agree to this procedure? and many more.
Each section has a list of questions for you to ask the doctors and nurses. These are only suggestions; you may have others.
I will give you honest answers and recommendations.
Private consultations can also be arranged. We will freely talk about all your concerns and suggest what should be done.
Reducing Stress During Critical Illness
Critical illness and a family member in the ICU creates a lot of stress. You will experience many emotions: anger, fear, guilt. 
With honest answers to your questions, we can change those to hope. patience and calmness.
Tension can sometimes develop between you and some of the caretakers and doctors. We need to avoid or fix that.
My experience dealing with and eliminating tension in the ICU can help you and your family remain together and get through this ordeal.
Let's keep your stress levels as low as possible.
The purpose of this site is to give you all the information I can about your loved one's illness.
That and providing answers and advice when asked, will, I hope ,support you through all the ups and downs that are part of having a family member in the ICU.